Recent seminar in HCMC introduced technical developments in industry and solutions in smart packaging to local enterprises.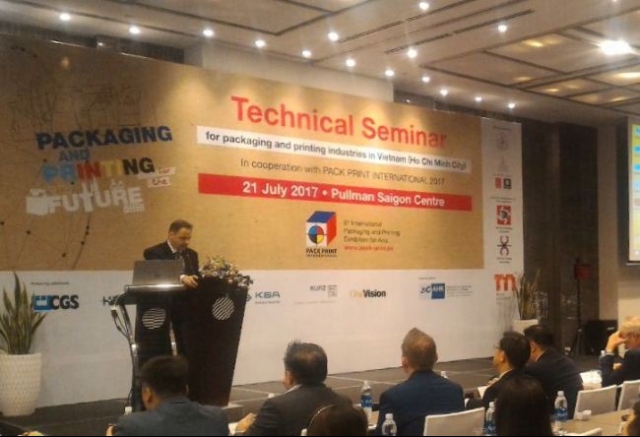 Vietnam's packaging and printing industry has been developing strongly over the last few years due to increasing demand triggered by rising local food consumption and exports, a recent technical seminar on the industry held by German Industry and Commerce in Vietnam (GIC) in cooperation with Germany's Messe Düsseldorf Asia Pte Ltd in Ho Chi Minh City heard.
Major challenges face the domestic packaging and printing industry, however, as new technologies are in short supply and those in use create only simple designs and patterns. Such challenges result in local enterprises not fully participating in global value chains and losing sustainable benefits.
Solutions raised by industry insiders included the application of advanced technologies in production, the use of new materials, and investment in modern production lines, to increase efficiency and ensure product quality.
German experts introduced the development of the world's packaging and printing industry, technological solutions for Vietnamese packaging enterprises, supporting technologies for printing and packaging design in line with the demand and potential of the industry in Vietnam, and development trends in the future.
The seminar aimed to link trade and technology exchanges between German and Vietnamese enterprises so that the latter in the packaging and printing industry can access the latest technological information.
According to figures from the German Engineering Federation (VDMA), the packaging industry for processed food in Vietnam will grow 38 per cent between 2015 and 2020, while demand for machinery and materials will also increase, by 25 per cent.
There are now some 1,500 industrial packaging and printing enterprises operating nationwide, earning total revenue of more than $2 billion a year.
Vietnam's packaging and printing industry has grown significantly in recent times, at an average of 15-20 per cent annually.
The expansion of industrial production has contributed to the growth of industrial packaging and label printing in the country, according to the Vietnam Printing Association.
"Technology is considered key in the packaging and printing industry moving further ahead in the global context," Mr. Gernot Ringling, Managing Director of Messe Düsseldorf Asia, told the seminar. "Vietnamese producers should focus on applying the latest technologies from Europe, the US, and other parts of Asia to remain competitive."
The seminar was organized to introduce technical developments in printing and packaging, solutions for smart packaging, the importance of workflows in a modern print environment, and diversification and individualization in the future.
It attracted the participation of nearly 200 domestic enterprises in the field.